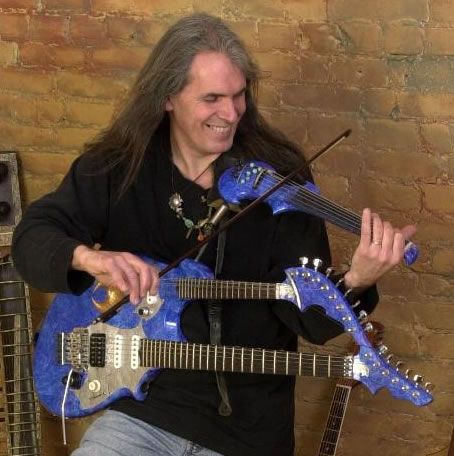 Ever wonder what a bamboo saxophone sounds like? Is a cigar box guitar is more up your alley? But what about the one-of-a-kind five-string acoustic bass, fitted with an additional twenty-nine sympathetic strings and four drone strings called a bazantar?
The Odd Music Gallery profiles images and sounds from a gas tank orchestra to a cyberpunk tricked-out MIDI keyboard wa-wa guitaresque Samchillian Tip Tip Tip Cheeepeeeee. If Dr. Suess had a live orchestra, these would be the instruments of choice!
Some of the collection are traditional instruments from familiar places like the Balkans or India. Others are unique creations from the minds of mad geniuses such as the Trimeister pictured here. Inventor and musician Steve Hoke, developed the guitar/mandolin/fiddle over an evolving two-year process. When asked about the music it makes, Steve calls it "earth fusion".
While you are taking the grand tour, don't miss the beer organ playing the Beatles' Elenor Rigby.

[Submitted by Leah Silverman]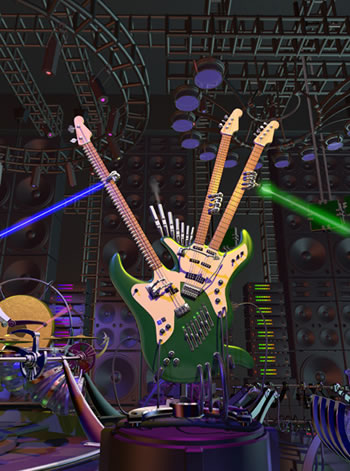 Pictured here is the Triple-Neck Guitar. This "virtual instrument" from the imaginations of Animusic, is a laser-firing, three-neck electric guitar that also has a mini pipe organ built in, plus robotic fingers for fretting and three armatures for picking and strumming. Not to mention a back-up rythm section with robotic drums! See video.

Oddmusic.com is for anyone interested in unique, unusual, ethnic, or experimental music and instruments. So whether you play stalagmites in a cave, the kaval, bow telegraph wires across the Nullarbor Plain, twist electrons by circuit bending, call whales on a Waterphone, or just love listening, this site is for you.
Showcasing the sounds, music, and instruments of artists and artisans from around the globe. From gourd music to electronic odysseys, harp guitars to industrial insect metal, from the beautiful to the bizarre.